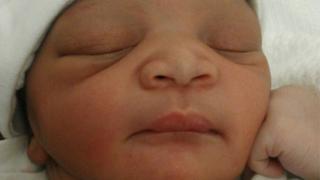 Police in the South African city of Durban are searching for a baby girl who was in a vehicle when it was stolen in an apparent car-jacking on Friday.
The mother was with her one-month-old baby and an eight-year old when she was approached by two suspects.
The individuals then hijacked her car and drove off with the baby still inside, officials say.
The car, a white Toyota Yaris, has since been found, but the baby is still missing.
Police spokesman Thulani Zwane said that a search operation, involving officers and a dog unit, would continue until the girl was found.
"Our priority is to find this baby," Mr Zwane said.
Police recovered the abandoned vehicle in Montclair, southern Durban, at about 15:00 local time (13:00 GMT) on Friday.
A South African Marshall Security spokesman, Kyle van Reenen, said that the infant's baby seat had been removed from the car, local media report.
The news has rocked South Africa, with residents taking to the social media site Twitter to urge anyone with information to come forward.
As a result of interest in the incident, the hashtag #HelpFindDurbanBaby was trending throughout the afternoon.
The South African police service has asked those with information to call their local crime number.
Car hijackings are common in South Africa, with many people installing tracking devices in their vehicles.
Last year, incidents in the country increased by 14.3% on the previous year, meaning that on average 40 cars were hijacked per day, according to the latest statistics.
Durban police search for baby abducted in South Africa 'car-jacking'