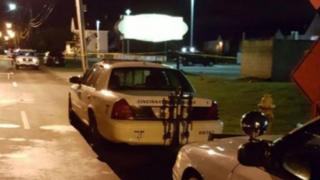 One person has been killed and at least 14 injured in a shooting at a nightclub in Cincinnati, Ohio, police said.
At least two gunmen were involved in the incident at the Cameo Night Club, the Cincinnati Police Department said.
Several people have life-threatening injuries, assistant police chief Paul Neudigate told news channel WLWT-TV.
"We are in the middle of a very horrific situation that occurred at the nightclub with multiple victims," Mr Neudigate said.
"It's going to be a long night for our homicide units to investigate," he added.
The shooting happened at about 01:00 (05:00 GMT). Hundreds of people were in the venue at the time, Mr Neudigate said.
Nobody has been taken into custody, CPD sergeant Eric Franz told ABC News. He said police were interviewing multiple witnesses.
Cincinnati nightclub shooting: One dead, 14 injured, police say