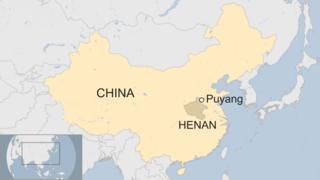 A stampede at a primary school in central China has left two children dead and 20 injured, state media said.
Xinhua news agency said students were crowded into a toilet during the morning break in Puyang when others began pushing their way in.
Another report in a Chinese newspaper claimed the toilet's wall collapsed from the pressure of the crush.
All the injured have been taken to hospital, where some are reported to be in a serious condition.
Puyang county's government told the Associated Press the incident was under investigation, but declined to provide further details.
It happened at the Number Three Experimental Primary School in Puyang county in Henan province on Wednesday morning.
Similar deadly incidents have happened before.
Six children died and 25 were injured in a stampede on a school staircase in South West China in 2014.
Children dead in China school toilet stampede}