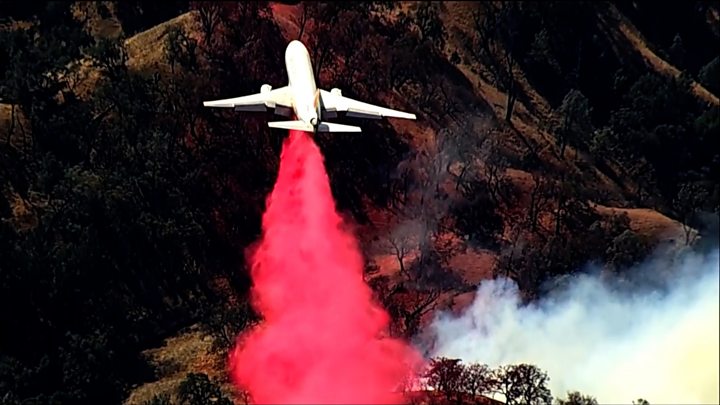 About 40,000 people have been evacuated from their homes as wildfires rage through California.
Firefighters are struggling to contain the blazes as they engulf land and burn buildings in the north and south of the western US state.
The fires are being driven by powerful winds, which are expected to worsen in southern California over the weekend.
California is still recovering from wildfires last year that killed about 100 people.
Where are the major fires?
The Kincade Fire, which started on Wednesday, has burned through 16,000 acres (6500 hectares) of land in Sonoma County – one of California's best-known wine regions.
Mike McGuire, a state senator, said more than 1,300 firefighters were tackling the blaze.
"This is an emotional time for many people," Sonoma County Sheriff Mark Essick told a news conference on Thursday. "It's only been two years since the fires that devastated our community."
He was referring to fires that swept northern California in October 2017, destroying thousands of buildings and killing dozens of people.
There are at least three other major fires:
The Tick Fire in Los Angeles County has burned at least 5,000 acres in the Santa Clarita region
The Old Water Fire in San Bernardino County has burned 95 acres, shutting off a major highway
A grass fire in San Mateo County, south of the town of Pescadero, has burnt about 95 acres
What's caused the wildfires?
There are unconfirmed reports that the Kincade fire erupted near a damaged high-voltage transmission line.
It is not known what caused the other fires.
High winds appear to have spread the fires – gusts of up to 70mph (112km/h) have affected much of the state.
California is affected by Santa Ana winds, which are known for being dry and gusty, exacerbating wildfires.
The winds are expected to die down in northern California on Friday but will continue to cause a critical to extreme fire risk in the south, BBC Weather reports.
Who is affected?
The Tick Fire is in the most densely populated region and at least 40,000 residents in Santa Clarita neighbourhoods have had to evacuate their homes.
Nearly 180,000 homes were without power on Thursday morning after Pacific Gas & Electric shut off power in 15 southern California counties to prevent the risk of any accidental fires.
Power was restored to 93% of customers on Thursday night.
Schools in the Los Angeles Unified School District announced they would close on Friday due to air quality and safety concerns.
On Thursday morning 2,000 residents of the town of Geyserville in Sonoma County were ordered to evacuate by fire officials and 49 buildings have been burnt down.
Many Geyserville residents said they did not have much time to gather their belongings together.
Dwight Monson, 68, told the Los Angeles Times that by the time his family jumped into their cars and headed into the valley below, the flames were already on the far edge of their property.
Emergency responders are tackling the fires with support from air tankers and helicopters.
Earlier this month, wildfires razed 4,700 acres north of Los Angeles, California, and forced thousands to flee.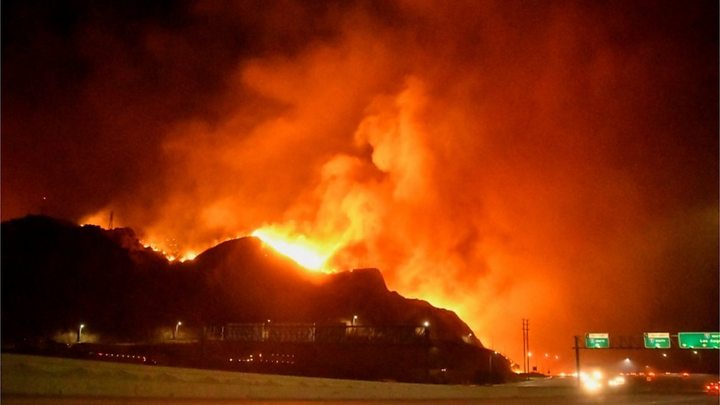 California wildfires: Thousands evacuated as flames rage