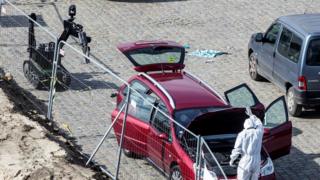 Belgian prosecutors have brought an attempted terrorism charge against a man who drove at a crowd in Antwerp.
No-one was injured but shoppers in a pedestrian zone were forced to dive out of the way in Thursday's incident.
The man was caught by soldiers, who found knives, a non-lethal gun and a substance which a bomb disposal team had to deal with in the car.
It came a day after four people were killed in an attack involving a high-speed car in London.
The vehicle hit many people on Westminster bridge near the Houses of Parliament before the driver got out. He was shot dead after fatally stabbing a police officer.
Witnesses in Belgium told the BBC that it was only because the London attack was on their minds that they had been alert enough to jump out of the way.
The man charged on Friday has been identified as 39-year-old "Mohamed R", a French national and resident.
The man, of North African origin, has also been charged with possession of weapons.
Just two days earlier, Belgium marked the first anniversary of the attacks in Brussels airport and a metro station, which killed 32 people and left more than 300 wounded.
Belgium driver on terrorism charge over Antwerp 'attack'