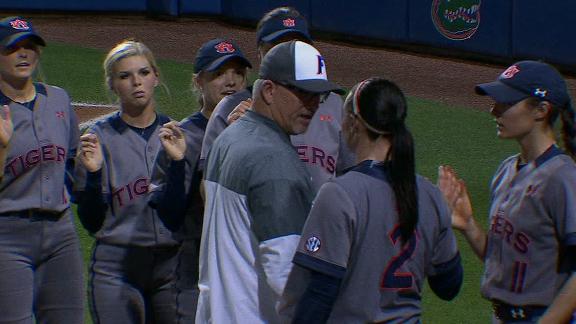 Florida softball coach Tim Walton was involved in a postgame incident Monday with Auburn shortstop Haley Fagan that appeared to include a slight forearm by Walton and pushing from both.
The footage from the video appears to show that Fagan did not have her hand up in the handshake line when she got to Walton after the No. 4 Tigers' 1-0 win over the No. 2 Gators. The clip showed Walton then appeared to slightly bump Fagan's shoulder with his forearm.
Fagan turns and shoves Walton in the back before heated words are exchanged, the video shows. The Florida coach then carries on with the postgame pleasantries with the rest of the Auburn team.
Fagan, whose older sisters, Sami and Kasey, played for the Gators before leaving after controversial suspensions in 2012, continued the heated verbal exchange with others off camera before teammates Casey McCrackin and Jenna Abbott restrained her.
Monday was the final game of a three-game series in Gainesville between the SEC powerhouses. Florida won the first two games before Auburn held on for the win in the finale.
Auburn coach Clint Myers declined to comment on the situation. espnW has also reached out to Florida and the SEC for comment.
Auburn SS Haley Fagan, Florida coach Tim Walton get into postgame tussle – ESPN