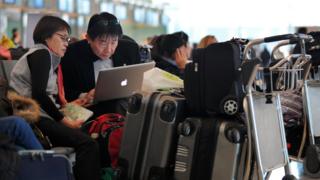 The United States has announced that laptops, e-readers and almost any other electronic device that is not a phone will be banned from cabin luggage on some flights.
The rule only applies to 10 airports, but one of those is the world's busiest international airport – Dubai International.
The new rules come from the US's Department of Homeland Security (DHS) and the Transportation Security Administration (TSA).
What items are affected?
The rule is broad and wide ranging, affecting almost anything that is not a phone.
It says: "Electronic devices larger than a cell phone/smart phone will not be allowed to be carried onboard the aircraft in carry-on luggage or other accessible property."
Anything larger will have to go in checked luggage in the hold.
But the advice does not define that size with any measurements, saying simply that "the approximate size of a commonly available smartphone is considered to be a guideline for passengers".
The department gave a list of examples, but said it was not exhaustive:
Laptops
Tablets
E-readers
Cameras
Portable DVD players
Electronic game units larger than a smartphone
Travel printers/scanners
It is not clear if the vague sizing could cause problems with interpretation, especially when it comes to larger phones or so-called "phablets" such as the iPhone 7 Plus.
In an accompanying document, the DHS said "their size is well understood by most passengers who fly internationally".
The examples specifically mention both portable media players and game systems.
But "necessary medical devices" will be allowed on board flights – after a security check.
Which airports are affected?
The new rules apply to 10 airports:
Queen Alia International, Amman, Jordan
Cairo International Airport, Egypt
Ataturk Airport, Istanbul, Turkey
King Abdulaziz International, Jeddah, Saudi Arabia
King Khalid International, Riyadh, Saudi Arabia
Kuwait International Airport
Mohammed V International, Casablanca, Morocco
Hamad International, Doha, Qatar
Dubai International, United Arab Emirates
Abu Dhabi International, United Arab Emirates
The DHS said it chose the airports "based on the current threat picture", but did not provide any more details. It said it may add more airports in future.
There is also no time limit on the rules – they will stay in place "until the threat changes".
The rule change also requires no additional TSA agents, US authorities said – any increased security cost will be borne by the affected airports.
What about connecting flights?
If you are on a business trip from Asia to the United States, it is likely that a Middle Eastern airport like Dubai could be part of your itinerary.
But the document detailing the enhanced security refers to "last point of departure airports" – so if you change planes at one of the affected airports for the last leg of your trip, the rules still apply.
So, for example, going from Dubai to New York – a 14-hour flight – will leave you without a laptop or other device, no matter where you started your journey from.
"TSA recommends passengers transferring at one of the 10 affected airports place any large personal electronic devices in their checked bags upon check-in at their originating airport," the official advice says.
What's the logic behind the ban?
In a statement, the Department of Homeland Security said it was basing its decisions on "evaluated intelligence".
It said terrorists "continue to target commercial aviation" and are trying to find "innovative methods" to make such attacks – including hiding explosives in consumer electronics.
"We note that disseminated propaganda from various terrorist groups is encouraging attacks on aviation, to include tactics to circumvent aviation security."
"We have reason to be concerned," the agency said – but did not address any specific threat.
Instead, they cited three examples of attacks that caused concern: the 2015 downing of an aircraft in Egypt, the attempt to down an airliner in Somalia in 2016, and the 2016 armed attacks against airports in Brussels and Istanbul.
Some of the banned devices may not be much larger than a mobile phone, adding confusion. Homeland Security said they were allowing phones simply because the new rules aim "to balance risk with impacts to the travelling public".
Can an airline or airport refuse?
No. As part of the legal agreements that allow commercial airlines to enter US airspace, they must abide by TSA security rules.
They have just 96 hours to implement the new procedure. This means the new procedures must be in effect by Saturday morning, 25 March, at the latest.
The DHS is also keen to point out that the new rules will apply to a very small proportion of travellers – just 10 of the 250 or so airports which fly to the US.
"A small percentage of flights to the United States will be affected, and the exact number of flights will vary on a day to day basis," it said.
Air travel: How will the new US electronics rules affect me? – BBC News