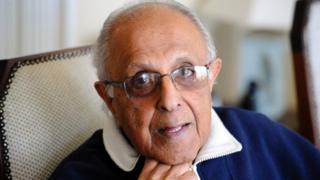 South Africa's President Jacob Zuma is not attending the funeral of veteran anti-apartheid activist Ahmed Kathrada at the request of his family.
Mr Kathrada called on Mr Zuma to resign last year after he became mired in a series of corruption scandals.
Deputy President Cyril Ramaphosa is representing the government at the funeral.
Mr Kathrada, 87, died on Tuesday. He was jailed alongside Nelson Mandela for fighting against white minority rule.
He spent more than 26 years in prison before his release in 1989. He later served as an adviser to then-President Mandela in South Africa's first democratically elected government.
Mr Zuma had ordered the national flag to fly at half-mast following his death and and had postponed a cabinet meeting so that officials could attend the funeral.
However, Mr Zuma would not attend either the funeral or a memorial service to be held later this week "in compliance with the wishes of the family," a government statement added.
Mr Katharada's wife, Barbara Hogan, is known to be a fierce critic of Mr Zuma.
Mr Kathrada asked Mr Zuma to resign after South Africa's highest court ruled that he had breached the constitution by failing to repay government money used to upgrade his private rural home in Nkandla.
The veteran anti-apartheid activist is being buried according to Muslim rites in South Africa's main city, Johannesburg.
Kathrada – a moral compass: Milton Nkosi, BBC News, Johannesburg
The death of Ahmed Kathrada emphasises that a golden generation of anti-apartheid heroes has nearly gone.
Along with the likes of Nelson Mandela, Oliver Tambo and Walter Sisulu, he was part of a group untainted by corruption, acting as a moral compass for the nation.
His generation literally gave up most of their adult lives to fight to liberate black people from the yoke of white minority rule.
"Uncle Kathy" stayed relevant to the struggle of the downtrodden till the end.
He was critical of the current administration, asking President Zuma to resign following a damning court judgement against the president.
His significance in the anti-apartheid struggle was also to deracialise it.
He proved that the fight was not just left for black Africans to wage on their own, and that is how I will remember him.
Ahmed Kathrada funeral: South Africa's Zuma asked to stay away