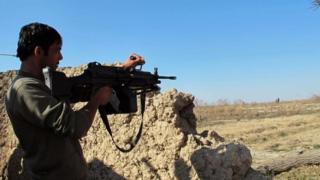 The Taliban have captured the crucial southern Afghan city of Sangin after a year-long battle, officials say.
Afghan forces say they have made a tactical retreat from the centre of Sangin.
A spokesman for Helmand's governor confirmed the district police and governor's headquarters were now in militant hands.
Almost a quarter of British troops killed during the UK's combat mission in Afghanistan died defending Sangin.
Hundreds of Afghan combatants have been killed there in recent fighting.
Taliban spokesman Qari Yousuf Ahmadi said the insurgents captured the city overnight.
A spokesman for the Afghan Ministry of Defence said troops had been pulled back to the area's main garrison on the orders of the army chief of staff.
Reports say foreign forces are bombarding the area, which has been fiercely fought over for more than a decade.
On the road to the crucial Kajaki dam, Sangin was the scene of heavy British and US military casualties before 2013.
---
Why Sangin matters
Sangin is a rich production centre for opium in Helmand province
Helmand is a major centre of the Taliban insurgency and borders Pakistan
Of the 456 UK military deaths in Afghanistan from 2001 to 2015, almost a quarter were killed in and around Sangin
---
Afghan Taliban capture city of Sangin}